You must declare the birth of your child in the municipality where the child was born. Do this as soon as possible, but in any casewithin three days. If your child was born in a hospital, you must register the birth in the municipality where the hospital is located.
Birth on weekend or holiday
You must register the birth within three days of the birth. If your child was born on a weekend or on a public holiday, check the schedule on which days you can register your birth. You can also register on the day of your birth itself.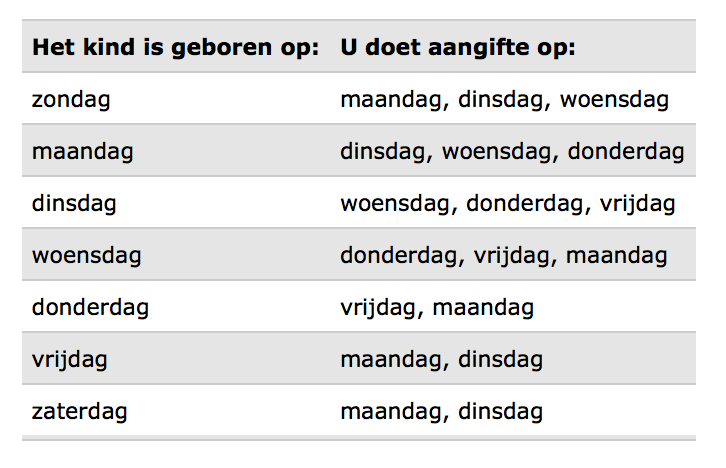 costs
Birth registration itself is free. When registering, the registrar of births, marriages and deaths draws up a birth certificate. You can request the deed online afterwards.
What do you need
To register a birth you need:
the date and time of birth of the child. You can bring a statement from a doctor or midwife for this (which also includes the mother's name). The obstetrician will send you the statement by email. If you give birth in hospital, you will receive it with you in the hospital.

the birth names of the child

a valid identity document of yourself

preferably a valid identity document from the mother. This is not required by law, but it does speed up the procedure.

possibly the marriage certificate, so that the child can be added to it.
Have you already recognized your child in another municipality or at a civil-law notary before it was born? Or have you already chosen a name? Then you also need:
a copy of the certificate 'Recognition of unborn fruit'

a copy of the deed of name choice
Who can file a report?
The following persons can register a birth:
the father or mother of the child

someone who was present at the birth

the director of the hospital or institution where the birth took place. The director may authorize someone to do this.

the residents of the house in which the birth took place.